It's been about 5 months since I last posted pics of my girl Mystery. So I thought I'd post a few new ones I have of her, and include a few of my future horse, Onyx. In the last entry I said she was about 15yrs old... she is in actual fact somewhere between 18 and 25 (we're still not entirely sure). She was born on the farm and everyone seems to think she's been there forever. When we're out riding she has the energy and stamina of a much younger horse.
Since I started leasing Mystery, she's gained more weight, has become more forward going (to the point she is actually quite difficult to stop on occasion, especially when cantering in the huge clearing), responsive and we haven't had one of our "arguments" about when it's time to turn around and go home for quite a while. We've also had a few "fun" encounters with stallions while out riding (for some reason, she's the most desired mare on the farm). Maybe I'll dedicate an entry to those encounters... because there are a few of them :-).
A little bit about Onyx. He's about 18-24months and growing like a weed, he's already about the same height as Mystery (about 14hands), so I hope he grows some more. He's still got his baby face and fluff, and he's the sweetest and friendliest colt around. He loves attention and kisses, accepts the halter, chews on the grooming brushes while I groom him, and we've been able to pick up his front hooves without a lot of fuss, he's a little wary of us going near his back hooves, yet he lets me pull burrs out of his tail, so we've left those alone for now, don't want him to kick anyone in the head. The guy who owns the farm and all the horses has told me that he'll be my next horse once Mystery retires. A friend of mine thinks he knows I'm going to be his future mom, because everytime we walk into the paddock he heads straight for me, then goes on to say hello to everyone else. He's pitch black apart from the white stripe down his face and 3 white socks and a few golden strands of hair in his mane and tail. I was told that his father was a large palomino (Tequila, who was unfortunately put down a few months ago) and his mum is a little very dark bay by the name of midnight... not too sure how he landed up as black as he is. Yet again I'm not so sure what breed he is.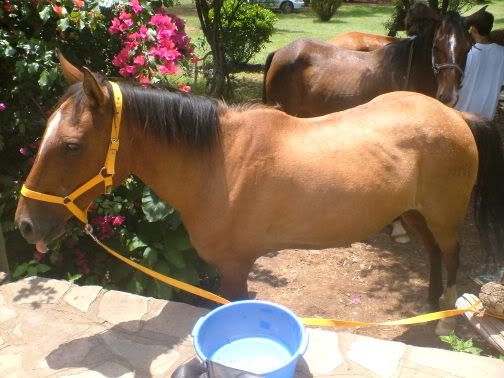 "Mmmm... yummy food's coming" </p>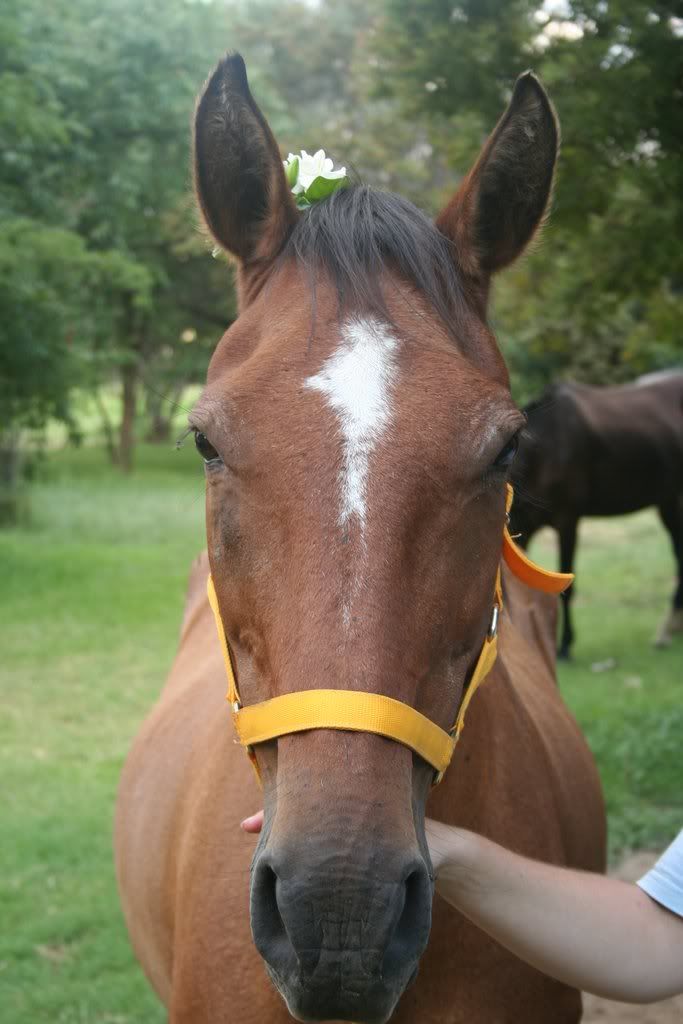 Mystery with a pretty flower behind her ear. My friend Steven put that there before he took a photo.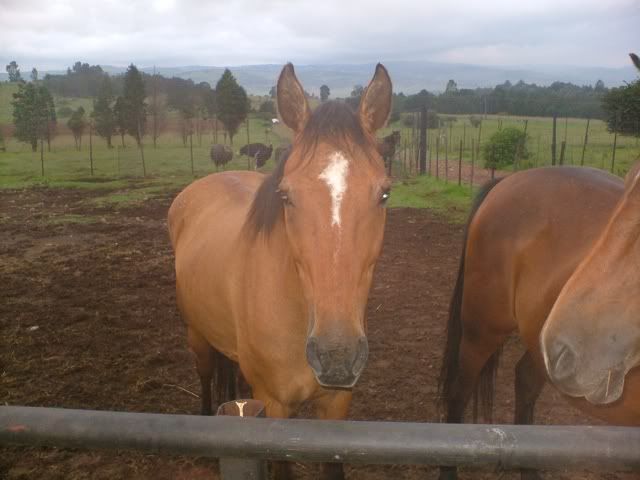 Morning Mum!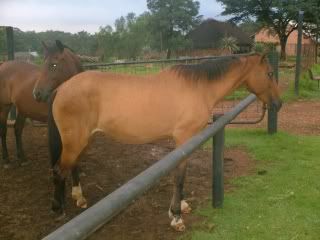 Mystery and her best bud Evil.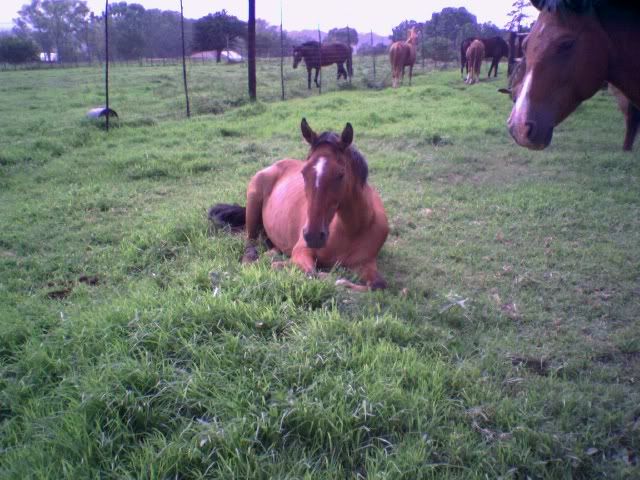 Catching a snooze on a chilly day. The nose belongs to another one of Mystery's best buds, Cherry Top, the lead mare in the herd.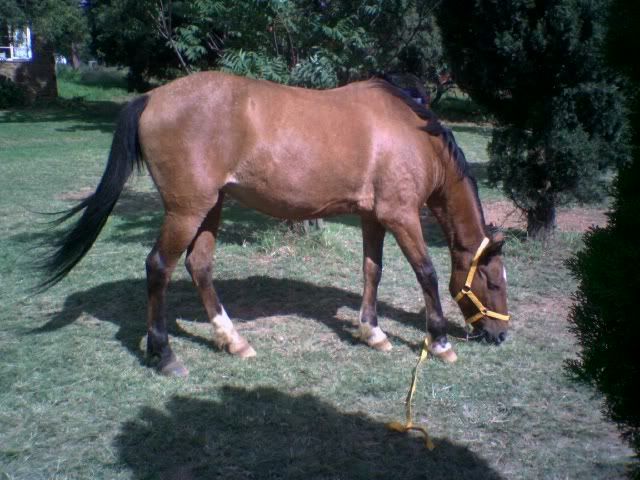 Grazing.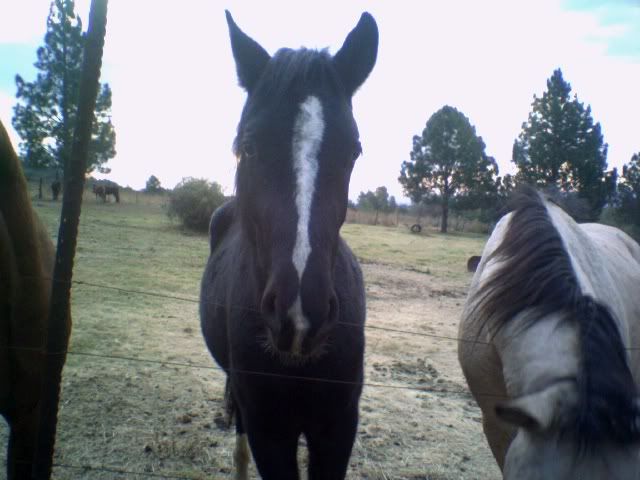 Onyx... looking like a donkey, with one of the young dun stallions - Napoleon :-).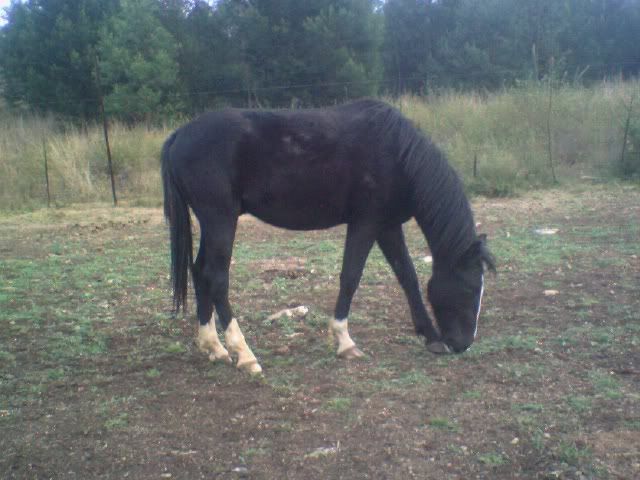 Onyx after he'd chased the local warthog, Trompie, away... can see he still has a lot of growing to do.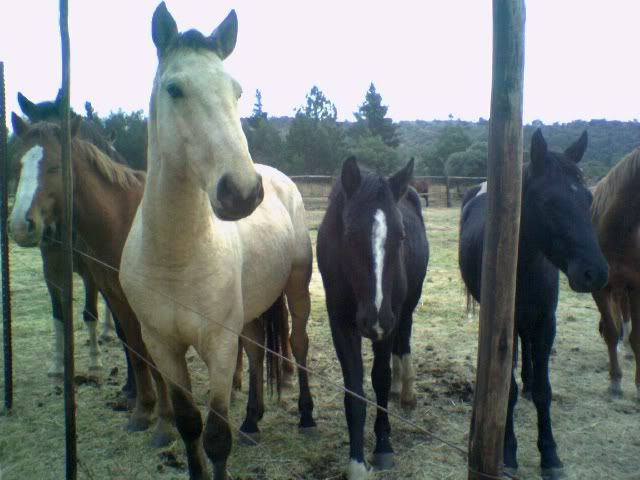 I think the chestnut is Baronne, the dun is a 3yr old stallion - can't remember his name, Onyx, and then the other black is Vrystaat (a very sweet stallion).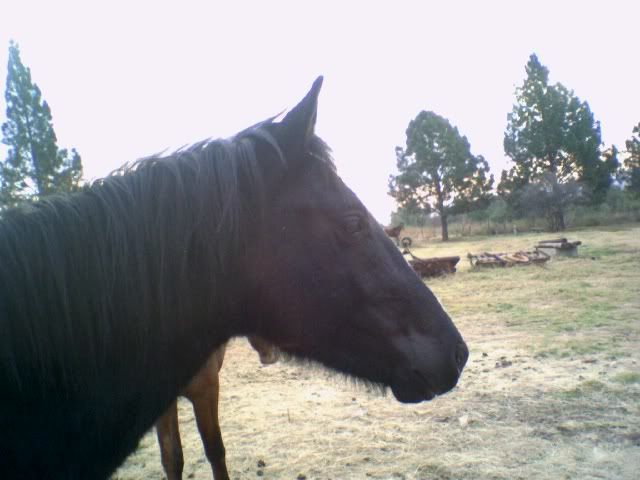 Onyx... probably looking at what Blackie was shouting about.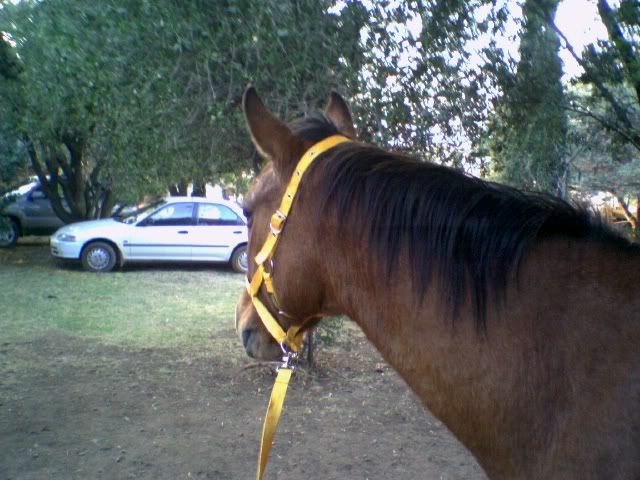 Mystery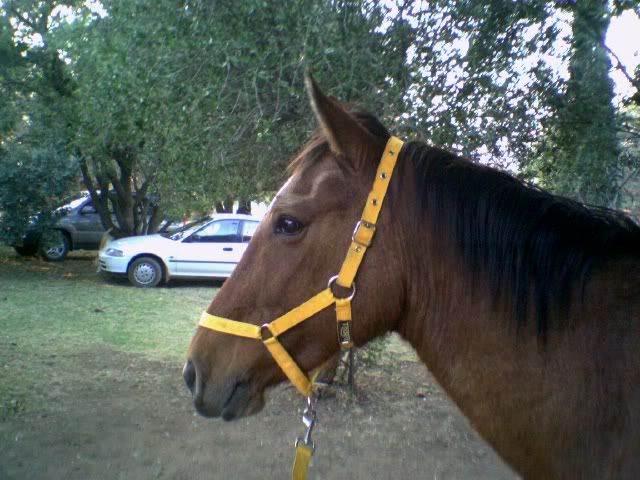 Mystery again.
Some of these photo's were taken with my phone, so not very good quality.
Cross Posted
Current Mood:
calm
Current Music: Gwen Stefani